Reviews & Press
From Premier Guitar's coverage of the 2011 Healdsburg Guitar Festival: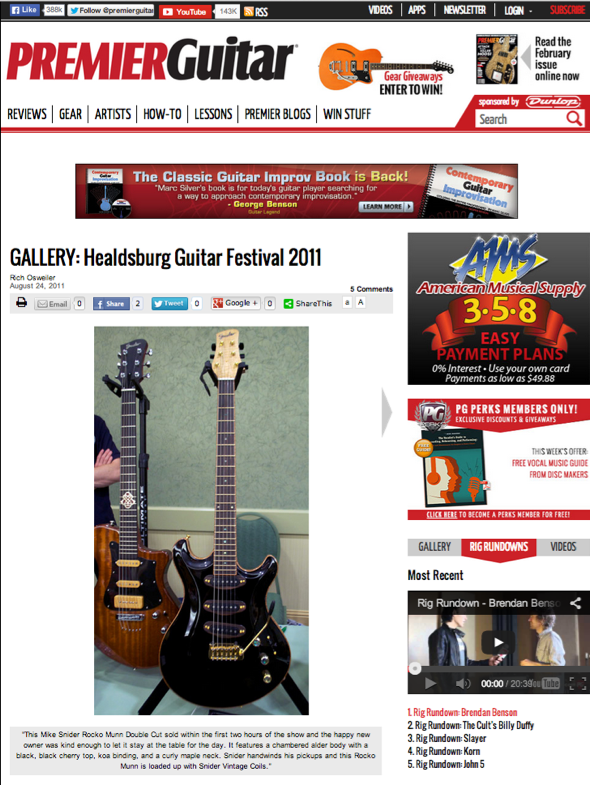 Not a Snider Guitar, but a Premier Guitar review of Born Custom Guitar's guitar with Snider Pickups in it (at the 2:36 and 5:18 marks):
Some good praise from that same review starting here:
https://youtu.be/S3N5Eqt6s8A?t=5m27s
From Harold D. in Tennessee:
"Guitar arrived unscathed. The build and finish are amazing! The tones are even better. Played through my Matchless C30 Reverb and I can find some great cleans, overdrive and I'm kind of a fuzz fanatic and it will grind without being harsh! Nice wah tones as well. Love the combinations with the push pulls. It just sings!"
From Josh J. in Colorado:
"Hey Mike,
The guitar arrived today, and it's beautiful. I opened it in one of our conference rooms and I was getting oohs and aahs even from people who don't know anything about guitars. Everything seems perfect -- the finish is gorgeous, the setup seems great, and fretwork is flawless. I like the neck too. From what you said, I was expecting it to be even beefier, and it's not too big for me at all. I can't really take my eyes off it."
From Jim W. in Colorado:
Mike -
"Well - I finally got around to installing these super pickups in a Epiphone DOT. All I can say is THANKS MUCH. These have the same thoaty tone I was looking for but what rally surprised my was the terrific articulate "frosting" tone off the neck pickup!! The neck pickup has best tone of any neck pickup I have ever played!! Very expressive and smooth - no harshness anywhere on the neck. WOW I am really impressed!!!
Kinda wished I'd opted for the 4 conductor config. I would really like to hear the neck wired parallel with in combo with the serial bridge. The neck is very moody but surprisingly un-muddy -- has a great airy top end that really responds to the tone pot well!!
If you would be willing I might order a 4-conductor set just for fun. I would like to try them in a maple neck, semi-hollow Tele -- just for grins.
I can't wait to try this guitar with a PP EL84 amp. I think it could really tame the EL84 harshness that I have never liked. I know it will sound good with 6P1P russian tubes too!!"
Followup from Jim W.:
"Wanted to drop you a line about the pups. They sound so frigging good my friend!!
Your pickups are so muscular even with 10s and yet they can get soft and sweet just like a good man should on occasion. I was raised by my Dad on late 40's jazz. As I age I find myself returning to those sounds - particularly in my rhythm playing. I can get some great horn section, stab-type chordal stuff happening with these. Very warm but never muddy and incredibly touch sensitive. Wow. GREAT pickups for semi-hollow guitars which in my opinion are VERY hard to find really good pickups for (especially in the neck).
You should definitely be selling these ole buddy - they are every bit as nice and well crafted as the VV's. Give a thought to thin custom wood inlay pup covers. I think people would kill for them!! You could also consider replacing the metal top of the cover completely which would open up the sound even more. It would be a great alternative for folks wanting a bit more bite."
From Joe Charupakorn's written Premier Guitar review of Born's OG Carve:
"
The OG Carve's pickups—handwound by pickup guru Mike Snider in Rochester, NY—use mismatched coils which generates a very PAF-like, low-to-medium output sound that, when paired with low gain pedal settings, delivered very tasty John McLaughlin-style lead tones—civilized, articulate with a hint of edge and explosiveness.
"


From a GearPage review:
"Hi everyone! I am always on the hunt for that perfect combination of Tone/build quality/playability/esthetics/authentic builder passion and intent and just plain old VIBE! Well,I met a wonderful gentleman named Mike Snider through another wonderful man named Brandon Montgomery, and my search for those particular qualities within the guitar universe were realized!
I followed Brandon's recommendations (As he IS the ToneMaster) and purchased a couple of Mr Snider's build's and was totally blown away by his concepts and ability to transfer these unique concepts into reality. Just amazing! Based on this experience, I then commissioned a custom build from Mike after playing one he built for Brandon, which is an incredible piece of guitar mastery, and off we went.
I was very fortunate to be able to source some incredible tone woods from Brandon (THANK YOU!!), and met with Mr Snider to go over design and other features of the commission. His depth of knowledge is just amazing and you can NOT find a better guy to transfer your "Once in a lifetime" guitar dreams to than Mike Snider. His passion and professionalism is unsurpassed in my experience. He delivered to me simply the most stunning, wonderful electric guitar that I could have ever hoped for!! Just pure magic in every way! Authentic, organic and inspirational to play. I truly feel very blessed to have this instrument. He created the most perfect cross between a great LP and a great 335. I do have LP's and 335's from the late 50's (real deal guitars), so I really do know what they sound and feel like. Mike Snider knocked it out of the park. This guitar is beyond incredible and I HIGHLY recommend anyone searching for that "Once in a lifetime" build to contact Mike Snider and speak with him about your vision. I guarantee, you will not speak to a more passionate, humble, able guitar luthier ever. Just a wonderful guy and a wonderful experience from start to finish and seriously may be the best boutique builder going!"